TED ART is a light-hearted and fun aspect of the TED Community Organization.
There are two separate but related ways to get involved:
Participate in the twice annual 8-week Prevent Blindness TED Art Therapy program.
Join the TED Community Organization TED ART* monthly get-togethers.
*Our ART is featured on most pages of this website. And will soon be part of an online gallery presented by the Prevent Blindness organization.
PREVENT BLINDNESS OFFERS TED ART THERAPY
For People with Thyroid Eye Disease and their Care Partners
Partake in eight weekly 2-hour virtual sessions to create art using a variety of artistic media.
Explore art therapy as a way to cope with feelings of isolation, anxiety and depression.
Discover an opportunity to build community and connections with other people who are affected by TED and express thoughts and feelings through art.
Interact with registered art therapists who will tailor the program topics, themes and materials for people affected by TED.
TED ART for EVERYONE
Join us the 3rd Saturday of each month, on Zoom, for TED ART. Originally intended for those who have participated in the Prevent Blindness TED Art Therapy class (graduates!), the monthly TED ART get-togethers are now open to anyone who has been affected by thyroid eye disease.
TED ART is a free service provided by the TED Community Organization. No art experience required. Must furnish own art supplies.
The once a month TED ART get-togethers provide many benefits for the artist in each of us.
Inspiration and Creativity: When artists come together, they can inspire each other and share creative ideas. By sharing different techniques and styles, artists can encourage each other to experiment with new approaches and expand their creative horizons.
New Insights: Peer art get-togethers provide a supportive environment where artists can give and receive feedback on their work. This feedback can help artists gain new perspectives on their art and their journey with TED.
Community Building: TED can be a lonely experience, and peer art get-togethers can provide a sense of community and belonging for artists. Sharing experiences and challenges with like-minded individuals can foster a sense of camaraderie and support.
For more information about TED ART please contact: art@tedcommunity.org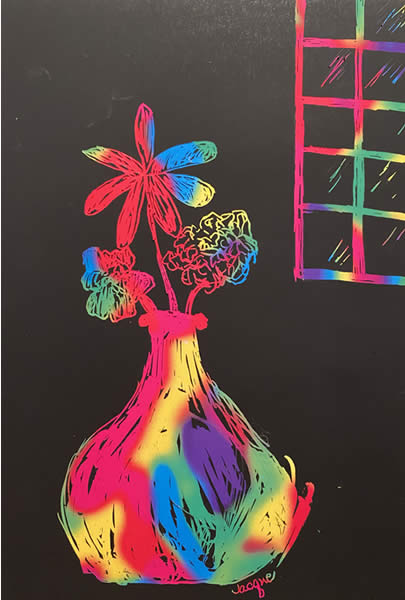 Color Revealed! ~ created by Jacque

This is Embracing ~ created by Layla
The first one is the first piece I curated and it made me feel more alone putting boundaries around myself and keeping people at arm's length. The second piece is how I felt when I let people in and embraced help, brought down my boundaries and it made me feel more empowered.