Thyroid Eye Disease (TED) Research & Resources Library
Thyroid eye disease (TED) is an autoimmune disorder that affects the eyes and the surrounding tissues. It is commonly associated with Graves' disease, but can occur in individuals with other thyroid disorders as well. TED can cause eye bulging, double vision, and eye pain, among other symptoms.
The research and resources below can provide valuable information and support for individuals with TED and their loved ones. It is important to work closely with a healthcare provider to manage and treat TED. Please review our TED Community disclaimer.
Here are a short list of resources related to thyroid eye disease (TED):
The American Thyroid Association (ATA) is a professional association dedicated to promoting thyroid health and research. They have a section on their website dedicated to TED that includes information on diagnosis, treatment, and management of the disease.
Prevent Blindness offers well-rounded information about Thyroid Eye Disease (TED) as well as a TED Art Therapy program.
Kellogg Eye Center provides a comprehensive overview of thyroid eye disease (TED) and, in a second article, discusses what to expect after you have received a diagnosis.
The National Library of Medicine offers articles and research about Thyroid Eye Disease (TED). This U.S. government website, noted as The National Center for Biotechnology Information, advances science and health by providing access to biomedical and genomic information.
PubMed is a database of medical research articles maintained by the National Library of Medicine. A search for "thyroid eye disease" will yield a wealth of research articles on the topic.
ClinicalTrials.gov is a database of clinical trials maintained by the National Institutes of Health. A search for "thyroid eye disease" will yield a list of ongoing and completed clinical trials related to the disease.
The Graves' Disease and Thyroid Foundation is a non-profit organization that provides support and resources for individuals with Graves' disease and other thyroid disorders, including TED. They offer a variety of resources, including educational materials and a patient forum.
The Thyroid Eye Disease Charitable Trust is a UK-based organization that provides support and resources for individuals with TED. They offer information on the disease, treatment options, and patient stories.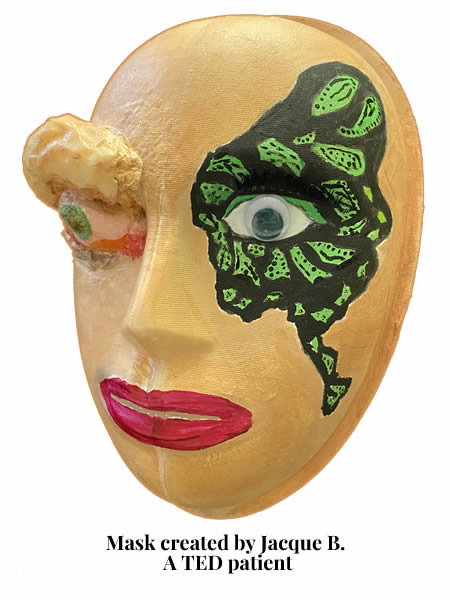 "One eye shows what TED was like for me.
The eye with the butterfly wing is my experience after treatment."
~ a TED ART project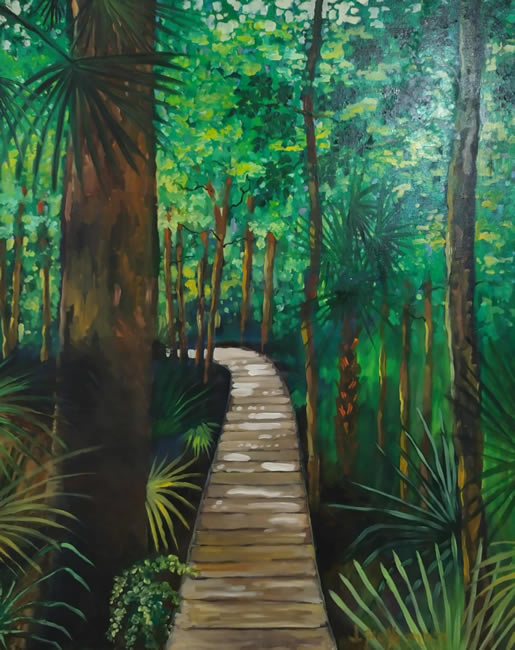 TED! A long journey through the woods.
~ Dr. Nancy Patterson, TED Patient
Helpful Information Specific to TED
National Eye Institute
https://www.nei.nih.gov/
For more than 50 years, the National Eye Institute (NEI) has been on the front lines of vision research — and we continue to support cutting-edge research projects that investigate new ways to prevent, treat, or even reverse vision loss. We also work hard to help the public learn about vision problems and how to keep their eyes healthy.
Frontiers in Endocrinology
https://www.frontiersin.org/
Frontiers in Endocrinology publishes rigorously peer-reviewed research from basic molecular and cellular communication to clinical care, advancing our understanding of the endocrine system, and leading to novel therapies for some of the most prevalent health issue.
Ophthalmology 360® 
https://ophthalmology360.com/
Ophthalmology360 is an informative, educational, dynamic online community space for ophthalmologists, optometrists, healthcare providers, patients, and patient advocates with an interest in eyecare. Our mission is to help improve patient outcomes, patient satisfaction, and patient quality of care for medically necessary and elective eyecare.
Links to Explore
In the section below, you can view a wealth of research papers and articles related to TED. While we do not endorse or recommend any particular study or article, we have found this information useful in our quest to better understand TED and its possible solutions. The date range for these research papers and articles is 2019 – 2023.
Insulin-like Growth Factor-I Receptor and Thyroid-Associated Ophthalmopathy
Terry J Smith, Joseph A M J L Janssen
Future Projections in Thyroid Eye Disease
Giuseppe Barbesino, Mario Salvi, Suzanne K Freitag
Cytokines as Targets of Novel Therapies for Graves' Ophthalmopathy
Poupak Fallahi, Silvia Martina Ferrari, Giusy Elia, Francesca Ragusa, Sabrina Rosaria Paparo, Armando Patrizio, Stefania Camastra, Mario Miccoli, Gabriella Cavallini, Salvatore Benvenga, Alessandro Antonelli
Overview of Graves Ophthalmopathy Literature From 1999 to 2019: Bibliometric Analysis
Jiamin Cao, Nuo Wang, Shiying Hou, Xin Qi, Yu Chen, Wei Xiong
Thyroid Eye Disease: How A Novel Therapy May Change The Treatment Paradigm
Yao Wang, Amy Patel, Raymond S Douglas
A survey of current practices by the British Oculoplastic Surgery Society (BOPSS) and recommendations for delivering a sustainable multidisciplinary approach to thyroid eye disease in the United Kingdom
Vickie Lee, Parizad Avari, Ben Williams, Petros Perros, Colin Dayan, on behalf of the British Oculoplastic Surgery Society (BOPSS) and TEAMeD
Optic Neuropathy and Diplopia from Thyroid Eye Disease: Update on Pathophysiology and Treatment
Brooke T. Johnson, Evan Jameyfield, Vinay K. Aakalu
Quality of Life in Patients with Chronic Thyroid Eye Disease in the United States
Kimberly P. Cockerham, Lissa Padnick-Silver, Noel Stuertz, Megan Francis-Sedlak, Robert J. Holt
The Role of Oxidative Stress and Therapeutic Potential of Antioxidants in Graves' Ophthalmopathy
Tzu-Yu Hou, Shi-Bei Wu, Hui-Chuan Kau, Chieh-Chih Tsai
Teprotumumab and the Evolving Therapeutic Landscape in Thyroid Eye Disease
Andrea Lora Kossler, Raymond Douglas, Chrysoula Dosiou
Immunological Aspects of Graves' Ophthalmopathy
Dominika Łacheta, Piotr Miśkiewicz, Alicja Głuszko, Grażyna Nowicka, Maria Struga, Ireneusz Kantor, Krzysztof B. Poślednik, Shafaq Mirza, Mirosław J. Szczepański
Mayo Clinic – Thyroid Eye Disease Research Clinic
Ongoing studies and projects in the Thyroid Eye Research Program at Mayo Clinic are aimed at better understanding the prevalence and mechanisms of thyroid eye disease (Graves' disease), assessing patients' treatment needs, and testing new treatments in clinical trials.
Update on thyroid eye disease: Regional variations in prevalence, diagnosis, and management
Caroline Y Yu, Rebecca L Ford, Sara T Wester, Erin M Shriver
A novel method for quantifying the biomechanical parameters of orbital soft tissue using a corneal dynamic scheimpflug analyser: a retrospective study
Ho Sik Hwang, Eun Chul Kim, Man Soo Kim, Suk-Woo Yang
Comparative assessment of Graves' disease and main extrathyroidal manifestation, Graves' ophthalmopathy, by non-targeted metabolite profiling of blood and orbital tissue
Dong Yoon Ji, Se Hee Park, Soo Jin Park, Kyoung Heon Kim, Cheol Ryong Ku, Dong Yeob Shin, Jin Sook Yoon, Do Yup Lee, Eun Jig Lee
Measuring Health-Related Quality of Life in Thyroid Eye Disease
Anu Sharma, Marius N Stan, Dan B Rootman
Debate: Will biological agents supplant systemic glucocorticoids as the first-line treatment for thyroid-associated ophthalmopathy?
Terry J. Smith, Luigi Bartalena
Updates on the understanding and management of thyroid eye disease
Clara J. Men, Andrea L. Kossler, Sara T. Wester
Investigation of Meibomian Gland Function and Dry Eye Disease in Patients with Graves' Ophthalmopathy
Sachiko Inoue, Motoko Kawashima, Reiko Arita, Ai Kozaki, Kazuo Tsubota
Evidence That Baseline Levels of Low-Density Lipoproteins Cholesterol Affect the Clinical Response of Graves' Ophthalmopathy to Parenteral Corticosteroids
Adriano Naselli, Diletta Moretti, Concetto Regalbuto, Maria Luisa Arpi, Fabrizio Lo Giudice, Francesco Frasca, Antonino Belfiore, Rosario Le Moli
Low- vs. high-dose radiotherapy in Graves' ophthalmopathy: a retrospective comparison of long-term results
Thomas Weissmann, Sebastian Lettmaier, Anna-Jasmina Donaubauer, Christoph Bert, Manfred Schmidt, Friedrich Kruse, Oliver Ott, Markus Hecht, Rainer Fietkau, Benjamin Frey, Florian Putz
Management of Thyroid Eye Disease-Related Strabismus
Mohammad Reza Akbari, Arash Mirmohammadsadeghi, Raziyeh Mahmoudzadeh, Amirreza Veisi
Understanding Pathogenesis Intersects With Effective Treatment for Thyroid Eye Disease
Terry J Smith
Emerging Insights Into the Role of Epigenetics and Gut Microbiome in the Pathogenesis of Graves' Ophthalmopathy
Yan Wang, Xiao-Min Ma, Xin Wang, Xin Sun, Ling-Jun Wang, Xin-Qi Li, Xiao-Yan Liu, Hong-Song Yu